Hey guys, so I cant decide what I should read and review next :( Help me decide please?
Anyway here are my choices:
You would think after helping save her boyfriend from an eternity in Hell that things would go back to normal. Well, as normal as life can be when you can see souls and your boyfriend is Death. But for Pagan Moore, things are just getting weirder.
The high school quarterback and reigning heartthrob, Leif Montgomery, is missing. While the town is in a frenzy of worry, Pagan is a nervous wreck for other reasons. Apparently good 'ol Leif isn't your average teenage boy. He isn't even human. According to Death, Leif doesn't have a soul. The quarterback may have skipped town but he's still showing up in Pagan's dreams... uninvited.
Dank has known from the beginning Leif wasn't human. But he hadn't worried about a simple soulless creature. Now, he realizes he made a grave mistake. Pagan's soul has been marked since birth as a restitution, to a spirit so dark not even Death walks near it. Dank knows saving Pagan's soul won't be easy but Pagan is his. And he's already proven he'll defy Heaven to keep her. If Hell wants a piece of him too, then bring it on.
"Ruby, where is your mother?" Ruby knows that the game is up. For the past few months, she's been on her own in the yellow house, managing somehow, knowing that her mother will probably never return.That's how she comes to live with Cora, the sister she
hasn't seen in ten years, and Cora's husband Jamie, whose down-to-earth demeanor makes it hard for Ruby to believe he founded the most popular networking Web site around. A luxurious house, fancy private school, a new wardrobe, the promise of college and a future—it's a dream come true. So why is Ruby such a reluctant Cinderella, wary and defensive? And why is Nate, the genial boy next door with some secrets of his own, unable to accept the help that Ruby is just learning to give.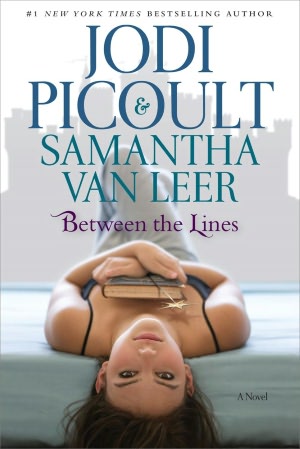 What happens when happily ever after…isn't?
Delilah is a bit of a loner who prefers spending her time in the school library with her head in a book—one book in particular. Between the Lines may be a fairy tale, but it feels real. Prince Oliver is brave, adventurous, and loving. He really speaks to Delilah.
And then one day Oliver actually speaks to her. Turns out, Oliver is more than a one-dimensional storybook prince. He's a restless teen who feels trapped by his literary existence and hates that his entire life is predetermined. He's sure there's more for him out there in the real world, and Delilah might just be his key to freedom.
Delilah and Oliver work together to attempt to get Oliver out of his book, a challenging task that forces them to examine their perceptions of fate, the world, and their places in it. And as their attraction to each other grows along the way, a romance blossoms that is anything but a fairy tale.
So any ideas what I should choose for my next review? Thanks guys!!!!