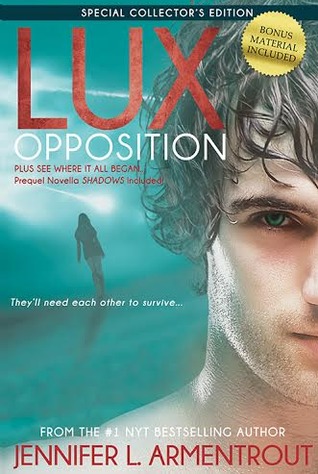 Title: Opposition (Lux 5)
Author: Jennifer L. Armentrout
Published: August 5th 2014 by Entangled Teen
Number of Pages: 534
Blurb from Goodreads:
Katy knows the world changed the night the Luxen came.
She can't believe Daemon welcomed his race or stood by as his kind threatened to obliterate every last human and hybrid on Earth. But the lines between good and bad have blurred, and love has become an emotion that could destroy her—could destroy them all.
Daemon will do anything to save those he loves, even if it means betrayal.
They must team with an unlikely enemy if there is any chance of surviving the invasion. But when it quickly becomes impossible to tell friend from foe, and the world is crumbling around them, they may lose everything— even what they cherish most—to ensure the survival of their friends…and mankind.
War has come to Earth. And no matter the outcome, the future will never be the same for those left standing.
Review: What can I say? This was the perfect conclusion to a perfect series. I was a little scared to start this book simply because I was not ready to part ways with Daemon and Katy, Dee, Dawson Archer, and even the scary as all hell Luc. However, I am so glad I did. I really don't need to rant about the flawless execution of this book. I laughed, I cried, I swooned and I fell in love with all the characters over again.
"What the hell, man?" Dawson exploded, hands flying up. "I was on level sixty-nine of Candy Crush, you bastard. Do you know how hard that—?"
And then Daemon goes and says something sweet like...
And Katy says something badass like...
"I think you do like Archer, and you just don't want to admit that you're in the beginning stages of a bromance to end all bromances."